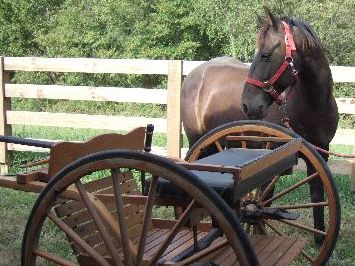 THERAPEUTIC CARRIAGE DRIVING
***SPECIAL SUMMER PROGRAM**
THERAPEUTIC CARriage DRIVING
WHAT: Carriage Driving is a fast growing sport. NARHA centers can offer students with physical, mental, sensory, or emotional conditions the rewards of interaction and control of a horse while driving from a carriage seat. Using a horse and carriage gives participants an alternative or an addition to riding, opening up the world of horses even more. Therapeutic Driving is all about imparting knowledge of safety, horses, harnessing, and driving skills to children and adults using teamwork.
DATES: 6 – Thursday's (June 10, 17, 24 and July 8, 15, 22) OR
6 – Saturday's (June 12, 19, 26 and July 10, 17, 24)
TIME: One Hour Sessions in the Morning or Evening Hours
WHO: Any current or new TAP participant, youth volunteer or youth sibling over six years old.
No more than two students per session.
FEE: $145.00 per student for 6 sessions
TRAINER: NARHA Certified Driving Instructor, David Bradham & one TAP NARHA Certified Instructor
DAVE BRADHAM, NARHA Driving Instructor & Evaluator Apprentice
**HURRY, this special summer only driving class will fill up fast!!
So be one of the first to register by contacting Terri at:
615.948.2618 or TNTAPinfo@aol.com***